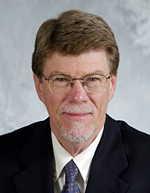 James R. Nobles
Legislative Auditor
Phone: 651/296-4708
E-mail: James.Nobles@state.mn.us

Jim Nobles is the Legislative Auditor for the State of Minnesota. He was chosen to serve his first six-year term as auditor by the Legislative Audit Commission in 1983. He was appointed to his sixth term in 2013. From 1978 to 1983 he served as Deputy Legislative Auditor for Program Evaluation, and from 1971 to 1978 he worked for the House of Representatives Research Department where he worked closely with the House Governmental Operations Committee.

Mr. Nobles has a BA in political science and MA in public administration.