Recycling and Waste Reduction
January 18, 2002
Major Findings:
State law requires counties to manage the waste produced by citizens and businesses by waste reduction, reuse, and recycling in preference to landfilling. In 1989, the Legislature enacted legislation, referred to as SCORE, that authorizes grants to counties for waste reduction, reuse, and recycling activities.

In addition to state grants totaling $14 million annually, counties use a significant amount of locally-generated revenue to implement these programs. Still, SCORE grants are important to counties, accounting for about one-third of the $42 million in revenue used for SCORE programs in 2000. Counties spent two-thirds of this money on recycling and household hazardous waste programs.

In 2000, Minnesota recycled about 40 percent of the municipal solid waste it generated. On the other hand, Minnesota's residents and businesses have been generating increasing amounts of waste and are still throwing away a significant amount of material, like paper and food waste, that could have been reduced, recycled, or composted.

Before deciding if and how to pursue options to divert more waste, however, state and county officials need to assess priorities, agree on funding, and better understand the costs and benefits of various alternatives.
Key Recommendations:
To better gauge progress in meeting recycling and waste reduction goals, the Minnesota Office of Environmental Assistance (OEA) should periodically conduct statistically reliable waste composition studies.

To help counties and cities better target their programs, OEA should increase its efforts to gather, synthesize, and communicate research results on effective recycling and waste reduction practices.
Report Summary
In 1989, the Legislature adopted legislation, based on recommendations made by the Governor's Select Committee on Recycling and the Environment (SCORE), to further waste reduction, reuse, and recycling. Among other things, SCORE statutes authorize state grants for recycling, managing problem materials, educating the public, and other related activities. Each county is required to provide matching funds of at least 25 percent of its SCORE grant. This report discusses how counties have used SCORE funds, SCORE's effectiveness, opportunities to abate more waste, and issues to consider in deciding how to proceed.
Counties Supplement State Grants and Devote Most Resources to Recycling Programs and Managing Household Hazardous Waste
In addition to state SCORE grants totaling $14 million annually, counties use a significant amount of locally-generated revenue to implement these programs. Still, SCORE grants are important to counties, accounting for about a third of the $42 million in revenue used for SCORE programs in 2000. User fees are the primary source of county-provided revenue.
Recycling and household hazardous waste programs have accounted for about two-thirds of reported SCORE-related expenditures since 1991, but the relative proportion between the two has shifted over time. According to counties, recycling programs have matured, requiring less capital investment. At the same time, counties have spent more on household hazardous waste programs and their associated transportation and disposal costs.
SCORE Programs Vary Widely, Reflecting a Complex Mix of Public and Private Roles
Counties, cities, townships, and private hauling companies all have roles in implementing SCORE programs. Because of this division of labor and the level of flexibility available to counties, SCORE programs vary widely around the state. Curbside recycling, for example, is a complex mix of county-run and city-run systems; in some places, the county or city arranges for collection, and in others, residents contract directly with garbage hauling companies to collect recyclables. Details of other SCORE programs vary as well. But in general, counties place a high priority on managing household hazardous waste and other problem materials and consider education essential to recycling and household hazardous waste programs.
Minnesota Recycles 40 Percent of its Waste but Is Generating Increasing Amounts
With well-established recycling, household hazardous waste, and other SCORE programs, Minnesota recycles about 40 percent of the waste it generates. SCORE programs are prevalent throughout the state, and recycling has kept pace with rising waste generation. In 2000, 63 percent of counties met or exceeded state goals to recycle 35 percent of waste in outstate counties and 50 percent of waste in metro counties. Minnesota has a better recycling rate than most other states.
But, Minnesota did not meet the Legislature's statewide goal to reduce per capita waste generation by 10 percent between 1993 and 2000. Instead, per capita waste generation increased by 22 percent during this time. Further, Minnesotans are still discarding a significant amount of material that could be reduced, reused, recycled, or composted. A 1999 study found that about 35 percent of Minnesota's garbage, by weight, was paper, and an additional 26 percent was organic waste, much of which could be recycled or composted. Household hazardous waste and problem materials were also present. Because waste composition data are important in targeting county efforts and assessing their outcomes, we recommend that Minnesota's Office of Environmental Assistance (OEA) conduct periodic waste composition studies that produce statistically reliable estimates for commercial and residential waste in both metro and outstate counties.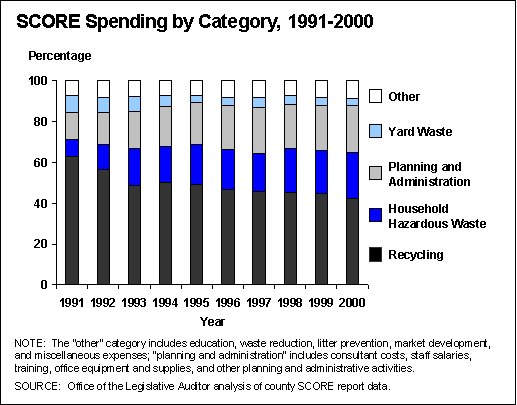 Pursuing Additional Waste Abatement Opportunities Depends on Decisions Regarding Priorities and Funding
Waste composition data and county self-assessments indicate that opportunities exist to increase recycling and further reduce the amount of waste that Minnesotans discard. Key targets of opportunity include (1) increasing commercial sector recycling and (2) reducing, recycling, or composting more paper and organic waste. Progress may be limited, however, because it is often cheaper to throw away rather than recycle some materials.
The Legislature and counties will need to determine how aggressively to pursue those opportunities and how to fund existing and future waste abatement efforts. One issue to be considered is how much emphasis to place on reducing, reusing, or recycling rather than disposing of waste. Those who view landfills today as economically and environmentally sound argue against expanding most SCORE programs. Others, however, argue for investing more in efforts to divert additional waste. They cite concerns over the growing amount of Minnesota waste going to out-of-state landfills and long-term environmental and liability risks associated with landfills. Among SCORE programs, the state and counties also need to decide whether to maintain recycling efforts at current levels, to pursue paper and commercial recycling opportunities, or to shift emphasis to other areas, such as composting or waste reduction.
Whether the Legislature chooses to expand state resources, maintain the status quo, or eliminate the SCORE program, funding is a key issue. One approach is to fund SCORE programs primarily through local fees. Proponents of this approach argue that doing so would more clearly tie the costs associated with recycling and disposal to residents and businesses. Others argue that the state must play a role. County officials whom we interviewed argued that a cutback or elimination of state SCORE funding would send a message that the state no longer places a priority on recycling and waste reduction. They also argue that it is politically difficult for county boards to raise service fees if needed to replace lost state dollars. OEA asserts that manufacturers should absorb a greater share of waste management costs by, for example, reducing packaging or collecting their products for reuse, recycling, or disposal when consumers no longer want them.
The variation among county SCORE programs and the lack of consistent outcome measures make it difficult to determine, specifically, what factors lead to successful programs. Pilot studies that include evaluation components would be useful in identifying best practices, and some such efforts have been completed or are underway. It is unclear, however, whether enough research like this is being done or whether the results of these and other studies are effectively being shared around the state. To assist counties in discerning which strategies would work best for them, we recommend that OEA increase its efforts to gather, synthesize, and communicate research results on effective recycling and waste reduction practices.
Summary of Agency Responses:
In a January 8, 2002, letter, Sherry Enzler, Director of the Minnesota Office of Environmental Assistance, provided comments on the final draft of the report. She described the evaluation as "both fair and accurate" and said that it "will be useful as the state wrestles with how to handle its growing waste stream in a manner that is protective of our environment."
She also said that the report raised three issues that she wanted to highlight in greater detail. First, she said that OEA was surprised to learn the percentage of SCORE funding that is being used for county household hazardous waste programs. She said that these county programs "often serve to subsidize the private waste disposal industry" and suggested that "perhaps these costs should be transferred to the waste hauling and disposal industry." Second, she agreed that significant recycling gains could be made in the commercial sector and said that "OEA will be evaluating specific recycling and waste reduction practices and making the results of this research readily available to all of the OEA customers." Third, she pointed to the report's description of joint efforts by counties and said that "OEA believes it is worth exploring whether cost savings and gains might be made in our solid waste system by regionalizing rather than running 87 separate county waste systems."
More Information
The Program Evaluation Division was directed to conduct this study by the Legislative Audit Commission in April 2001. For a copy of the full report, entitled "Recycling and Waste Reduction (02-01)", 72 pp., published on January 18, 2002, please call 651/296-4708, e-mail Legislative.Auditor@state.mn.us, write to Office of the Legislative Auditor, Room 140, 658 Cedar St., St. Paul, MN 55155, or go to the webpage featuring the report. Staff who worked on this project were Deborah Parker Junod (project manager) and David Chein.