Minnesota Pollution Control Agency Funding
January 24, 2002
Major Findings:
During the past 20 years, the main source of funding for the Minnesota Pollution Control Agency (MPCA) has shifted from the state General Fund to pollution-related fees and taxes.

MPCA's staff-related costs per employee have recently increased faster than the agency's operating costs and inflation, although its situation is not unique among state agencies.

Determining the proper method of funding MPCA will require legislators to make decisions regarding (1) the use of general versus "polluter pays" revenue sources, and (2) whether funding sources should be closely linked to the purposes for which they will be used.

Minnesota's water quality fee revenues do not cover the cost of MPCA's water-related regulatory activities.

Federal regulations will likely require MPCA to more comprehensively monitor water quality and address "nonpoint" water pollution, although MPCA is still determining specific strategies and their cost implications.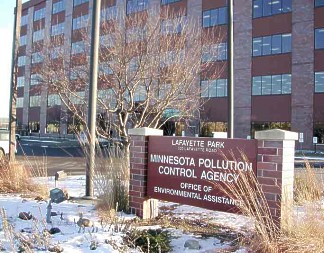 Key Recommendations:
The Legislature should clarify state laws that define which categories of MPCA activities should be funded with fees. It should then consider any adjustments in fee levels necessary to comply with these laws.

To comply with current law, MPCA and the Legislature should address the imbalance between hazardous waste fee revenues and appropriations.

MPCA should report to the 2003 Legislature on (1) plans for implementing and financing "total maximum daily load" requirements, and (2) what, if any, additional state-level strategies would cost-effectively help the state to avoid violations of federal standards for ozone and particulate matter.
Report Summary
The Minnesota Pollution Control Agency (MPCA) is the state's main environmental protection agency. It monitors and regulates air, water, and land pollution, works with citizens and businesses to prevent pollution, and helps to clean up polluted sites.
MPCA Has Faced Funding Challenges in Recent Years
When it was established in 1967, MPCA was funded solely with the state General Fund and federal funds. Since that time, pollution-based fees and taxes have comprised an increasing share of the agency's funding. For instance, facilities that emit air pollution, discharge wastewater, and treat or store hazardous waste are required to obtain permits from MPCA and pay annual fees. Since 1983, the percentage of MPCA's budget funded by the General Fund has declined from 50 percent to 13 percent.
During the past decade, MPCA has experienced a variety of funding challenges. The agency's water and hazardous waste fee revenues have not kept pace with inflation, and legislators have had to transfer money into these fee accounts on many occasions to address potential deficits. Water quality fees have not increased since 1992, and several MPCA proposals for fee increases have not been enacted by the Legislature.
Meanwhile, cost increases have strained MPCA's staffing resources. MPCA's average salary and fringe benefit cost per full-time-equivalent (FTE) employee increased 33 percent between fiscal years 1996 and 2001. This increase was higher than increases in MPCA's operating expenditures (20 percent), staffing costs in Minnesota state government (25 percent), state and local staffing costs nationwide (21 percent), and consumer prices (13 percent).
The increased staffing costs are one reason that MPCA's staff size is projected to decline by mid-2003 to its lowest level in a decade. The agency projects a fiscal year 2003 staffing level of 719 FTE, down from a peak of 805 FTE in 1997. To help keep staff focused on higher priority activities, MPCA proposed and the 2001 Legislature authorized reallocations of staff among the agency's programs.
Decisions About MPCA's Funding Mix Will Depend on Key Policy Choices
In 2001, MPCA proposed "environmental tax reform" to address the agency's funding problems. For instance, the proposal would have placed revenues from solid waste management taxes and various other pollution-based charges into a fund that could be directed to high priority areas. Legislators did not pass MPCA's proposal but expressed an interest in continued discussion of funding options.
Determining the "right" mix of funding sources for MPCA will require legislative judgments about some fundamental issues. For instance, policy makers should consider the extent to which they prefer to fund MPCA with general or broad-based revenue sources, as compared to "polluter-based" sources. Pollution is often a reflection of society's general consumer preferences, and pollution control often results in broad-based public benefits—which may justify using the General Fund or other broad-based revenue sources to pay for some of MPCA's activities. Also, it may be necessary to use broad-based revenues to pay the cost of regulating types of pollution that are hard to trace to an individual source.
On the other hand, it may be fairer to impose the governmental costs of pollution regulation directly on the polluters, where possible, through fees or other charges.<FN-Some economists have suggested setting pollution taxes at levels that reflect pollution's "social" costs (such as health and environmental impacts), not just its governmental costs. But social costs are hard to measure, and they have not been the basis for most pollution taxes.> In this way, the prices of polluters' products might more directly reflect pollution's costs, and polluters might have some incentive to reduce pollution.
In addition, policy makers should consider whether it is important to have clear links between revenue sources and the purposes for which they will be used. The 2001 Legislature used revenues from the statewide solid waste tax to fill MPCA's funding gaps in a variety of program areas. This raised concerns among business and local government officials who had supported the tax's use for more limited purposes. <FN-On the other hand, half of solid waste tax revenues are deposited in the state General Fund, where they can be used for a variety of purposes.> Likewise, MPCA proposed in 2001 to put various environmental fees and taxes (including the solid waste tax) into a fund that could be available for a variety of uses, not just uses directly related to the activities from which the revenues were raised. A flexible funding structure could allow the Legislature and MPCA to direct pollution-based revenues to priority areas, but it might also make it more difficult to relate fee and tax levels to the program costs they were originally designed to support.
Water and Hazardous Waste Fees Need Legislative and MPCA Attention
State law says that fees should be set at levels that do not significantly over-recover or under-recover the costs of providing services. However, water quality fee revenues cover less than 60 percent of MPCA's staff costs for water-related permitting, compliance monitoring, and enforcement—and this does not include administrative overhead costs or the costs of essential activities such as ambient water monitoring, permit-related rule development, environmental review, and technical assistance. In fact, the Legislature should clarify in law the types of costs that should be covered by MPCA fees, thus making it easier to determine the exact extent of compliance with the law.
Once the Legislature clarifies which costs should be covered by fees, it should consider changes in fee levels necessary to comply with these laws. Nationally, water quality fees vary widely, according to a survey of 13 states. For instance, Minnesota collected $0.56 per capita in water quality fee revenues in fiscal year 2001, while two states (Washington and Wisconsin) collected more than $1.50 per capita, and two states (Michigan and Kentucky) collected less than $0.10 per capita.
MPCA has authority to raise hazardous waste fees administratively, unlike its authority regarding water and air quality fees. In fact, MPCA is required by law to set hazardous waste fees at a level that fully recovers the legislative appropriation for hazardous waste fee expenditures. In recent years, however, MPCA has not increased hazardous waste fees to cover the full appropriation—mainly, it says, because of legislator and industry concerns about fee levels. Thus, the Legislature has had to make up the shortfalls with funding from other sources. MPCA and the Legislature should consider fee increases or statutory changes to ensure compliance with the hazardous waste fee law.
MPCA Should Clarify Strategies for Addressing "Emerging" Pollution Issues
Some emerging pollution control issues might require new funding (or new funding sources), but it is too early to tell. For instance, federal regulations will probably require MPCA to do a more comprehensive job of identifying and addressing polluted waters, partly through greater emphasis on "nonpoint" pollution. But federal and state rules are still being developed, so MPCA's resource needs for these tasks are unclear. MPCA should provide the 2003 Legislature with more specific plans for implementing these requirements (known as "total daily maximum load" requirements).
In addition, mobile sources of air pollution might need more of MPCA's attention so that the state can avoid potentially expensive violations of federal standards for ozone and particulate matter. MPCA should report to the 2003 Legislature on state-level strategies that could cost-effectively address such risks.
Summary of Agency Responses:
In a letter dated January 9, 2002, Commissioner Karen A. Studders of the Minnesota Pollution Control Agency described the report as "thoughtful and thorough" and said that MPCA agrees with the report's fee-related recommendations. The commissioner said that the report "is fair in pointing out the difficulties of sustaining polluter-pays fee funding at appropriate levels for the on-going regulatory programs, particularly the water quality fees." She said that "the Legislature has not been willing to authorize increased fees" in recent years. In addition, the commissioner said that the majority of Minnesota's air and water pollution comes from nonpoint sources that do not pay fees, "yet the general public expects the MPCA to address this pollution."
"Therefore, we would like to draw the Legislature's attention to the broader-based funding options described in Appendix C of the report," the commissioner said. "Broadly based fees and taxes more equitably reflect consumption of the environment because revenue rises when there are more impacts on the environment. These broad-based fees and taxes offer an opportunity to both replace the current (inadequate) permit fee structure and also fund nonpoint source activities from polluter-based sources rather than the General Fund."
The commissioner said that, as recommended in the report, MPCA will provide the 2003 Legislature with information on funding needs for (1) implementation of federal Total Maximum Daily Load requirements, and (2) strategies to address air toxics. In addition, the commissioner said, "We believe that in 2001 we made the necessary corrective changes to [MPCA's 1998 reorganization] and believe these changes will allow us to improve implementation of our core environmental programs."
More Information
The Program Evaluation Division was directed to conduct this study by the Legislative Audit Commission in April 2001. For a copy of the full report, entitled "Minnesota Pollution Control Agency Funding (02-02)", 96 pp., published on January 24, 2002, please call 651/296-4708, e-mail Legislative.Auditor@state.mn.us, write to Office of the Legislative Auditor, Room 140, 658 Cedar St., St. Paul, MN 55155, or go to the webpage featuring the report. Staff who worked on this project were Joel Alter (project manager), John Yunker, and Todd Wilkinson.